Browser Manager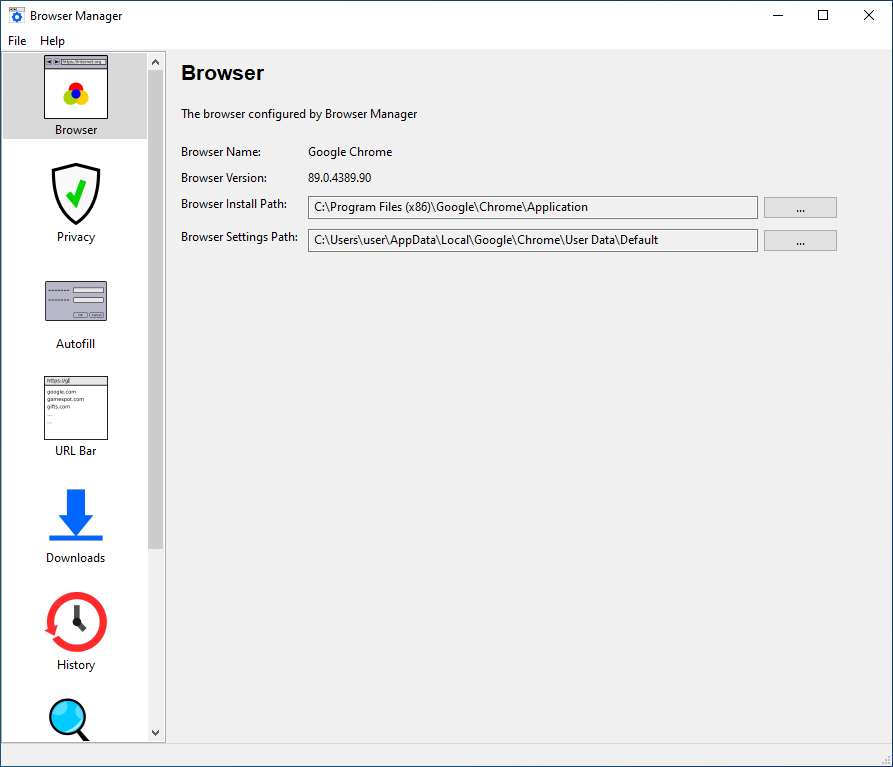 Browser Manager is a configuration and privacy management tool for Google Chrome.
It gives you quick and easy access to privacy settings, autofill terms, downloads, visited URLs, browser cache and cookies.
Features
Change cookie settings
Manage autofill terms offered in web forms
Manage autocompletion URLs
Manage download history entries
Manage browsing history entries
Manage cookies
Browse the files in your browser cache
It's free for personal use.
Download
Autofill
The browser remembers data you enter into forms like your name, email address, telephone number e.g. and fills in the data for you when it spots form elements with the same name.
Use Browser Manager to see what personal form data Chrome has saved and delete data you want to be gone.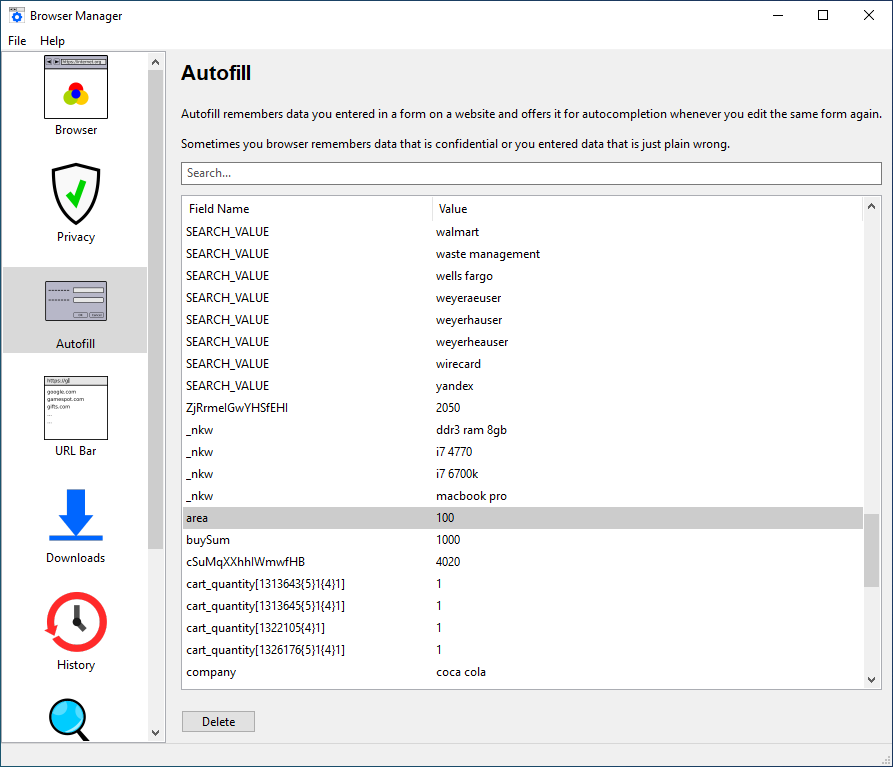 URL Bar Completion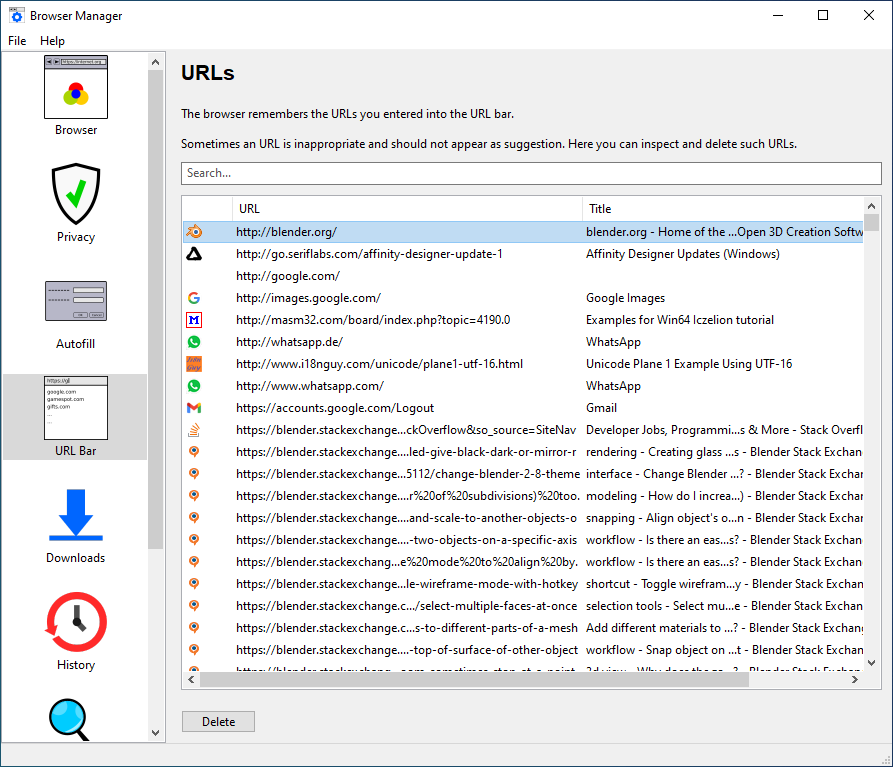 Have you ever visited a website you shouldn't visit and next time you entered the address of another website your browser suggested this one website you absolutely didn't want to see?
It's annoying when something like that happens when you are alone. It can be outright embarrasing when it happens when somebody else looks on your screen.
Get rid of such unwanted suggestions with Browser Manager!
Browsing History
Check and clean up your browsing history directly from Browser Manager.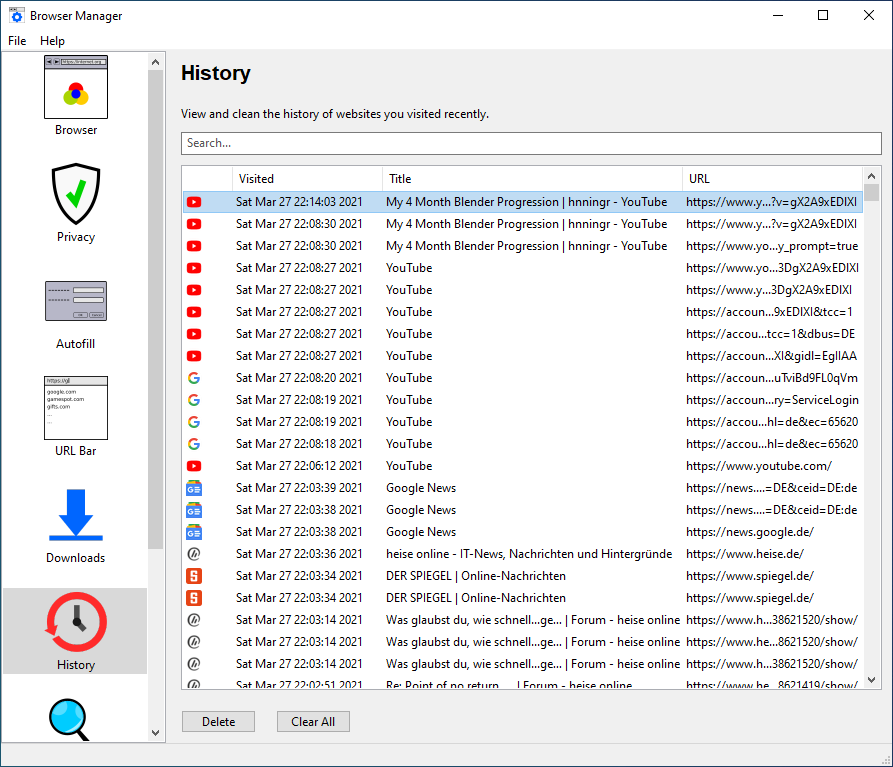 Search Terms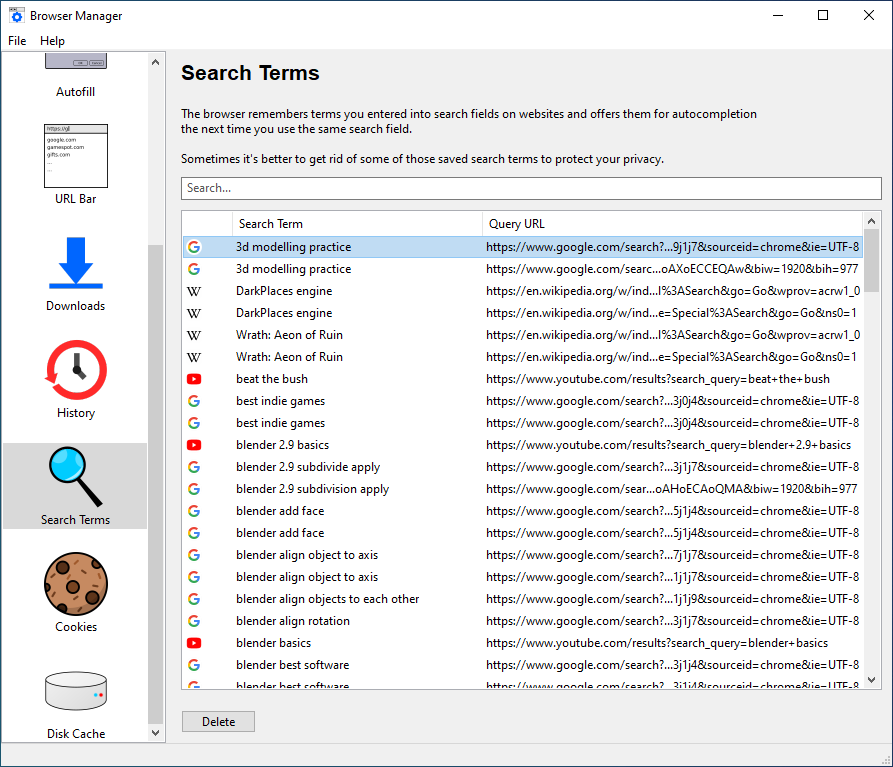 Depending on how the forms on a website are built terms entered into search boxes normally don't go into autofill but are stored separately as search terms.
Screen and delete those terms as needed with the Search Terms feature.
Cookie Manager
Despite those annoying cookie consent dialogs that nag us on most websites these days websites still store tremendous numbers of cookies in our browsers.
Find out what cookies are stored on your PC and edit, delete or clear all cookies.
You can also protect certain cookies before clearing so the cookies of your favorite sites are exempt from clearing and you stay logged into the sites that matter to you.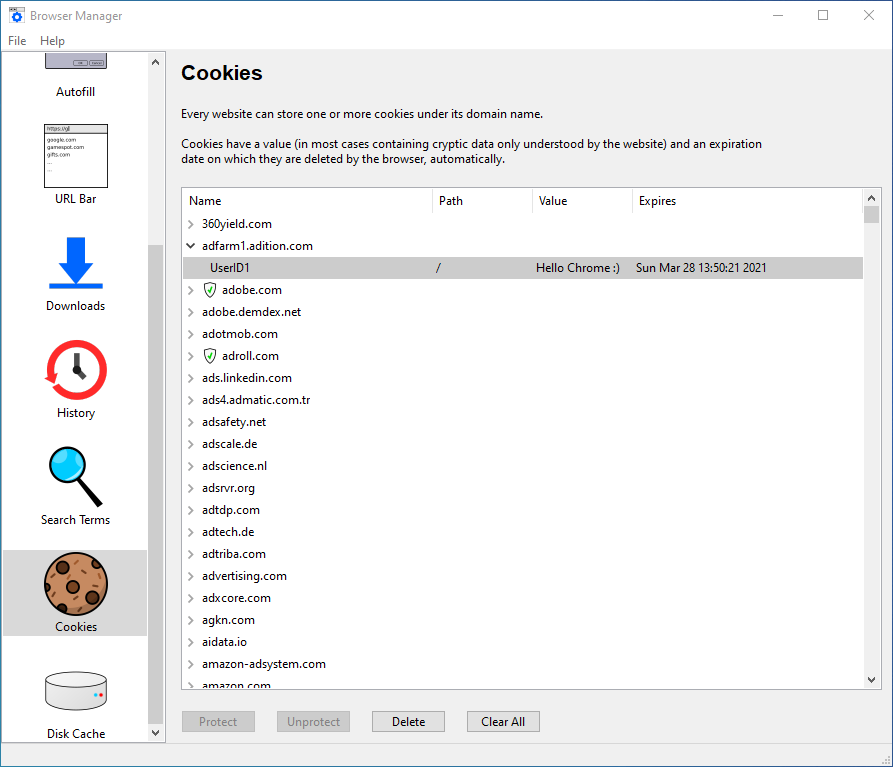 Disk Cache Browser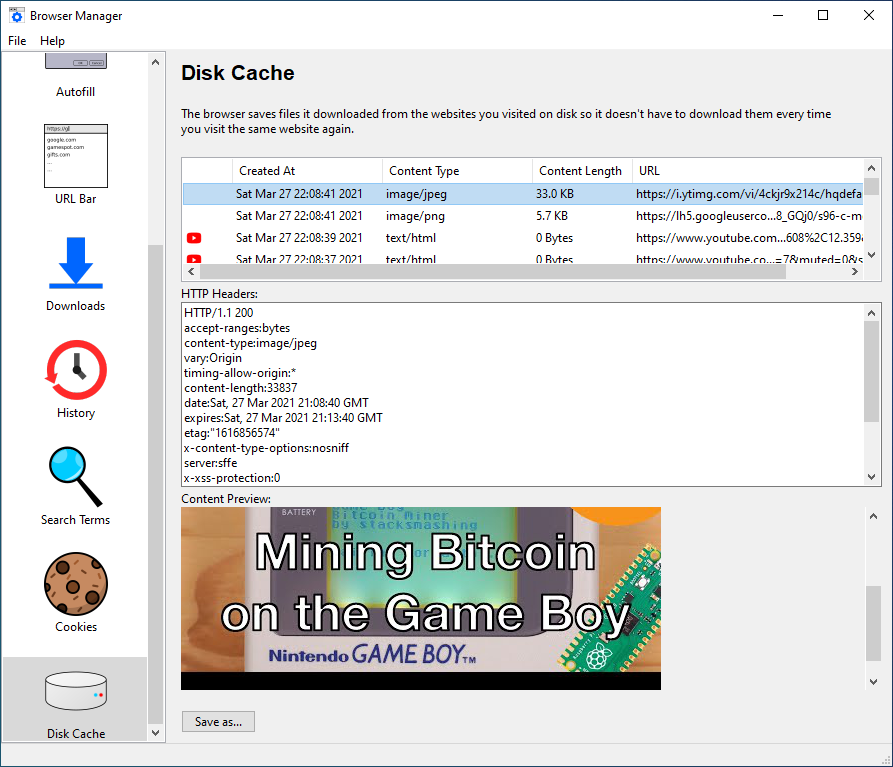 Did you ever wonder what files your browser stores in its disk cache while you browse all those websites?
With the Disk Cache feature you can view the HTTP headers as well as the content of all cache entries and you can even extract files from the cache and store them as separate files.
Release Notes
Version 1.6.2 (July 18, 2022)
Version 1.6.1 (July 11, 2022)
Fix startup errors with newer Chrome versions due to changed file paths (tested with Chrome 103)
Version 1.6 (August 12, 2021)
Mac Version
Support for Chrome Simple Cache Format
Version 1.5 (March 28, 2021)
Search feature for Autofill, URL Bar, Downloads, History and Search Terms panels
Deletion of multiple entries and context menus
Fix for crash while reading Cookies
Version 1.4 (February 7, 2021)
New Search Terms feature
New Disk Cache feature
Version 1.3 (January 6, 2021)
New Download History feature
New Browsing History feature
Bugfixes and corrections for the URL Bar feature
Version 1.2 (December 6, 2020)
View and delete entries of the URL bar history
In addition to the portable version there is an installer available now
Version 1.1 (November 12, 2020)
Clear all cookies feature
Protect cookies from deletion feature
Added a program icon
Improved error handling
Added buttons to open browser paths
Version 1.0 (November 1, 2020)